Global Compliance in Marketing Services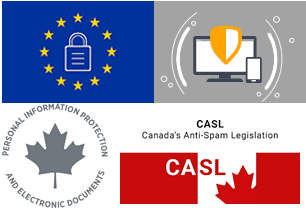 We work with hundreds of businesses across Canada and the US, helping them to connect with consumers searching for their products and services. Over the last couple of decades, the internet and technology have irreversibly changed both our world and the way we, as businesses, engage with those interested in purchasing the services and products we have to offer. For several years, marketers were given nearly free reign to blast their messages as far and wide as possible using the new online tools available. Times have changed. Consumers are frustrated with SPAM and our world has become savvy to how much of our personal information the internet is gathering and selling.
In response, governments are placing new restrictions on businesses and marketers. There are now rules governing when and how companies can gather data, how that data can be used, stored, and forgotten, and when a company can market to an individual directly through email. At CAYK Marketing®, we're proud to say our team is always on the forefront of our industry, which is why when Canadian business owners need globally compliant marketing, they come to CAYK.
General Data Protection & Regulation (GDPR) is the newest set of regulations created by the European Union. Any business that wants to make their services or products available to people in the EU must now comply with GDPR legislation. But even companies who serve a local, niche market outside of Europe should be paying attention. In Canada, the Personal Information Protection and Electronic Documents Act (PIPEDA) is a much older law than GDPR; it was first legislated in 2000, but it's likely that our government will consider updating it to meet the same high standard set by the EU.
CAYK Marketing® shields your business by ensuring your website is fully GDPR compliant. We do this by:
Allowing web visitors to know what data your business is collecting, what the data is for, and how long it will be stored.
Working with your business to craft a professional, easily understood privacy policy and terms of conditions. This document will be placed on your website.
Providing notice to website visitors if your website uses cookies or stores data.
Allowing web visitors to access their data and to request a copy of all the data you've gathered on them.
Allowing web visitors to request that their data be erased and forgotten.
It's important to note that not knowing what data your website is collecting on visitors isn't a valid defence. You're obligated to work with your marketing provider to ensure your business can provide web visitors with both the information they're legally entitled to and can honour requests surrounding user data. Our team at CAYK® has been using marketing automation software that is completely GDPR compliant for years, and we can guarantee your services follow all the best practices.
Canada's Anti-Spam Legislation governs how Canadian businesses are able to communicate via email with their current and potential customers. Ignoring this legislation can have steep consequences, including fines in the millions of dollars per violation. Working with the CAYK Marketing® team will ensure that your newsletters, automated emails, and general marketing strategy are fully compliant with CASL.
Here is how our marketing specialists protect you:
Every conversion opportunity that encourages individuals to consent to receiving marketing messages via email from your company will include a CASL-compliant consent check-box.
All marketing messages crafted by CAYK® on your behalf will include an easy-to-find unsubscribe option.
We offer your clients granular unsubscription, which allows them to choose which marketing messages they wish to receive and how frequently. This encourages your clients to continue receiving messages from your business, but at their preferred rate of frequency. It also ensures they still get the messages which speak to the services and products they're most interested in.
As a business owner, do you know what information your website is gathering on your web visitors? Are you familiar with how that information is being stored or how your business uses it to further its marketing strategy? CAYK®'s Global Compliance Marketing Services help your business to stay ahead of the changes that governments across the globe keep making to the way marketing works online. At CAYK®, we stand behind the expert use of marketing automation software as the true best practice for ensuring complete GDPR, PIPEDA, and CASL compliance.
Need to learn more about which anti-spam and privacy laws affect your business? Our team of marketing advisors can help. Get in touch with one of our professionals today, and let's begin creating a globally compliant marketing strategy for your business. Reach us online or by phone at 403-778-6966 today.
Have a question? Contact us today by filling in the form below.