As a Canadian Direct Marketing Service Provider, we give businesses the opportunity to connect with potential customers and make a strong impact by offering the product or services directly to their customers!
In today's day and age when social media and digital marketing is taking over, many people wonder if direct marketing is still relevant or worth the investment. When in fact, the response from direct marketing can propel your business forward in ways you never could have imagined.
Did you know, that 95% of people usually read their mail the same day it arrives? 68% read it as soon as it's received, while another 27% review it later on that same day.
Or did you know that 91% of people are likely to open an item that comes in the mail if it looks official or important, 90% if they recognize the sender, and 89% if it looks interesting or intriguing? Further, 84% of the addressed print advertising pieces received and 67% of the unaddressed print advertising pieces that a person receives are actioned (i.e.. read, saved it for later, will shop, purchase or do something else). (source: Canada Post)
CAYK® Marketing has partnered up with the post office to offer our clients several different options to meet their Direct Marketing goals, and while our team is experienced in all of the services listed below, we do have a Direct Marketing Specialist on our side.
Services we offer that are supported by Canada Post: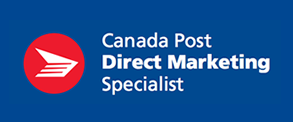 Precision targeting

Unaddressed AD mail

Addressed AD mail

Campaign development, planning, & measurement

Creative design & development
Our team loves campaign development and planning. The most important thing to start  is to meet with you and learn about your business needs and your marketing goals! Once we gather the information we need, our staff goes to work- brainstorming, coming up with innovative and creative ideas, and put together a plan tailored specifically for you- no two plans look the same!
But, we don't stop there! Once we implement your campaign, we measure it along the way- paying close attention to what's working, what may not be working, and why. By monitoring these key points, the plan can change as we go, making sure that you get the most out of your marketing budget.
CAYK is proud to serve Canadian business owners from our locations in
Calgary & Vancouver.
Call us toll-free at 800-988-4715.